So what is the best length barrel for your pistol outfitted with an IMM match weight? I got out my ruler to find out.
First, the HK45:
Jarvis already makes a HK45 Match barrel. It is listed on their site as  "HK 45 FS 6.02 inch Match Length(this is not the USP Model)". When installed on a HK45 with the match weight it sticks out the front just a tiny bit.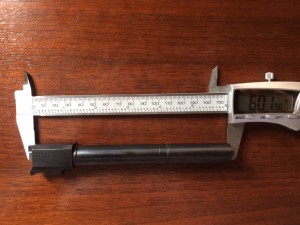 The barrel has an O-ring installed already and fits nicely in the pistol.
HK P30:
Jarvis can help you out for 9mm. The longest barrel available from Jarvis is "about 5 and a quarter inches" which is pretty close to what is needed for the IMM weight on a P30. A barrel with a total length of 5.2 inches will be flush with the tip of the weight, so a length between 5.2 and 5.3 would be fine. You will likely want to call them up to place your order because exact lengths are not an option on the website. Jarvis does not make HK barrels in .40S&W.
I did inquire about adding an O-ring to a P30 or P30L barrel and was told that they do not have an O-ring in that size.
EFK Fire Dragon can do a barrel up to about 5.09 inches. This fits the BrownBearGear weight perfectly, but the IMM weight is .1″ longer. EFK Fire Dragon produces barrels in 9mm and 40S&W. So if you shoot a .40, this is your only option that I know of.
HK P30L:
The options for the P30L are limited. No one that I am aware of makes a P30L barrel long enough to extend the full length of the weight. The barrel would need to be 5.8″ – 5.9″. So the options here are extended ported barrels or threaded barrels, and they will extend halfway into the weight. This will function fine, but lacks the "Finished Look" that I'm sure you are looking for. Jarvis will have this in 9mm, and EFK will have 9mm and .40S&W, or HKparts would have an OEM threaded barrel.
The plain truth is that there hasn't been a demand for the longer barrels for the P30L. The match weights have only been on the market for a short time. Once enough people have asked for a longer barrel, manufacturers will start making them.
If you know of other barrel options, drop me a line.